You can back up your OneNote Notebooks, access them from anywhere and even make them available to others by synchronizing them with SkyDrive. To Synchronize a OneNote Notebook with SkyDrive, you will first need a Microsoft account. You already have a Microsoft account if you have one of the following: Windows Live ID, Hotmail or MSN Account, or an Xbox ID.
Step #1
Open the notebook you want to sync. Under the File tab click Share.
Step #2
Choose your notebook from Select Notebook. Select Share On Web. The Web Location options appear and now you can sign in to your SkyDrive account or sign up for an account.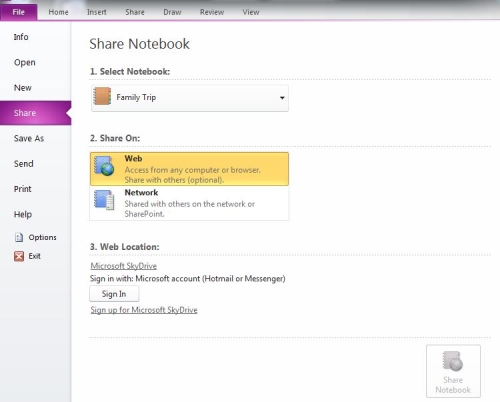 Step #3
Choose in which Folder you want to save your Notebook.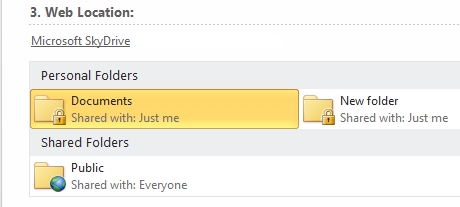 Step #3.1 (Optional)
If you want to create a New Folder for this Notebook, click on "New Shared Folder". This will take you to the Web Interface.

When you finish creating and naming your new folder, return to OneNote and click the "Refresh" button to see the Folders again.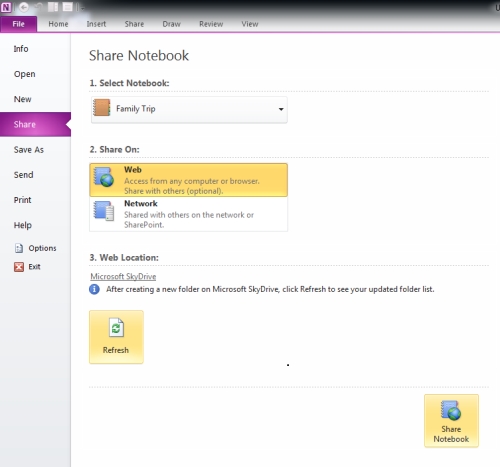 Step #4
Click the Share Notebook button at the bottom right. Your Notebook will be uploaded on SkyDrive. You will get a confirmation Message saying that the notebook is accessible to anyone with permissions at that Web location. You can also choose to email someone a link to access the notebook.