In this tutorial, you will learn ho to use Paypal for setting up a digital download.
Here we will exemplify with having a digital document to be paid before it downloads.

Step 1:
From your browser, go to
is.gd/digitaldownload

Step 2:
Log in to your Paypal account.

Step 3:
From the Merchant Services tab, select to create a Buy Now button.

Step 4:
Click on Create your button now.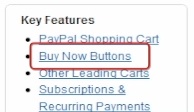 Step 5:
Fill in the details of your merchandise. At the 'Take customers to this URL when they finish checkout', put the link to your digital download.

Step 6:
Click on Create button.

Step 7
: Copy the code and paste it on your website.

Result:
Congratulations, you have learned how to use Paypal for a digital download.