This tutorial will teach you how to use Adult Vaccination Finder, an online tool which will allow you to locate adult vaccination providers in your area.
Step # 1 – Visiting the website
To use this tool, the first thing you will want to do is open your preferred internet browser and visit the site at "http://www.vaccines.gov/getting/where/index.html". This is a government page dedicated to provide vaccination center locations.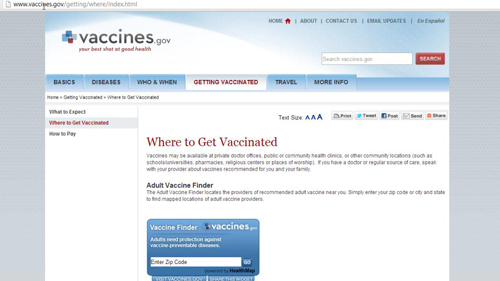 Step # 2 – Use the tool to search for vaccine providers via zip code
When you reach the webpage, scroll down the screen, and you will see a blue box on the left side. At the top of this box it says "Vaccine Finder." Type in your zip code where it says "Enter Zip Code" and press the button on the right called "GO."
Step # 3 – Using the HealthMap Vaccine Finder
You will now be on the "HealthMap Vaccine Finder" page. In the center of the page will be a map of your area. On the left side you will see a list of addresses, and on the right side you will see a list of vaccines. Use the map in the center of the page or the list of addresses on the left side to find adult vaccination providers available near you.