Learning how to change google doc language is relatively simple but does have one major drawback compared to Office – you cannot change the language of each individual document. This tutorial therefore shows you how to change the global language settings.
Step # 1 – Navigating to Settings
Visit "www.drive.google.com". In the top right of the screen you will see an icon that looks like a cog, click on this. In the menu that appears click on "Settings".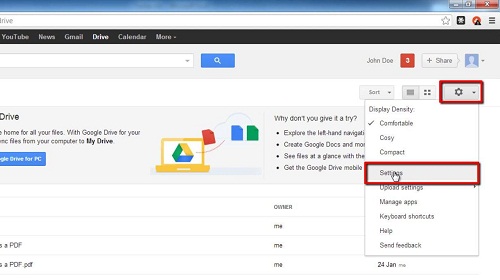 Step # 2 – Changing the Language
You will be in the "General" tab by default and at the top you will see the option to select a language from a drop down box. As you can see here it is set to "English (United Kingdom)", we want to change this. Click the drop down box and select a new language, in this example we are changing it to "English (United States)". Finally click "Save" at the bottom of the page, you will be taken back to the homepage and that is how to change google doc language.