In this tutorial you will discover how to find cheap travel tickets in three easy steps, using Bing Travel.
Step # 1 – Visit Bing Travel to Perform a Flight Search
Open up your web browser to visit "http://www.bing.com/travel" and locate the "Flight Search". In the form type in the location you're coming from in the "From" box, and also the location of where you're going into the "To" box. Now you can fill in the date that you're leaving in the "Leave" box by selecting the dates on the popup calendar. If you're searching for a roundtrip you must fill in the "Return" box too. Regardless, you need to fill in the number of adults from the dropdown menu and then select an option from the "Class" dropdown menu. Finally, click the blue "Search" button to get started.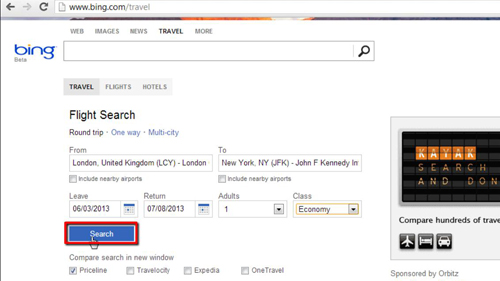 Step # 2 – Filter the Results to Find the Best Price
When you click the "Search" button you will open a new page that displays a list of flights. From the navigation on the right you will have a few filter options, where you can filter out specific airlines or airports. After filtering the results to match your personal preferences, you will discover the best rates are at the top of the list. If they aren't, just click above the list on "Price" to rearrange the results.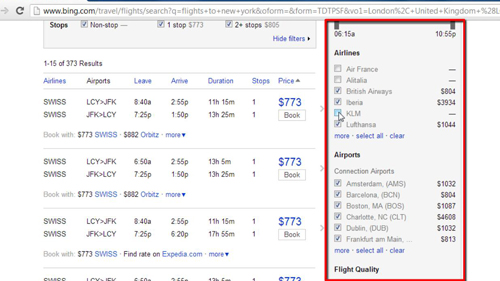 Step # 3 – Book the Flight
When looking at the list of flights you will notice that each one has a "book now" button towards the right, directly under the price. Hover over the button and it will become blue, click it to book the flight. Bing will then redirect you to the airline's website where you can purchase cheap travel tickets directly from them.