Usually WordPress is used as a blog, but sometimes users wish to host a wordpress static home page instead of a blog-like recent posts page. In this tutorial you will learn how to create a wordpress homepage static by creating a new page to the WordPress blog.
Step # 1 – Pages
Start by logging in to the admin dashboard of your WordPress account. There, use the left navigation panel to locate the pages option. Hover onto that option and a small menu will pop up. Now select the Add new page option. You will be directed to a new page creation space. Enter a page title, its content to be shown, and publish it.
You can add another new page, set its title but leave it blank in order for WordPress to set up a blog page as well once the main page is turned static from blog.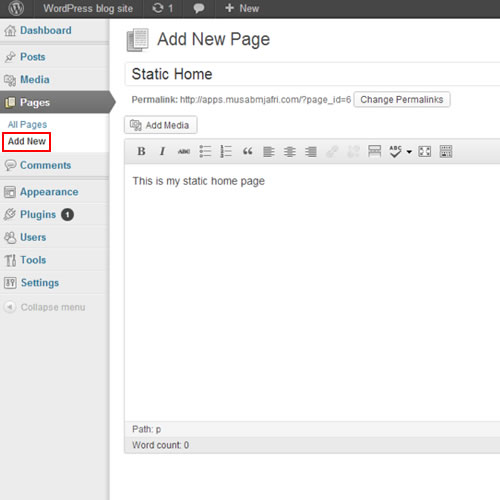 Step # 2 – Setting it static
When both pages are published, navigate to the menu on the left again and locate settings option. Hover on this option to reveal another pop-up menu. Select the Reading option from this menu.
On the Reading page, you can find several options regarding readable settings of the blog. Choose static page option in the dropdown of front page display setting for making wordpress homepage static. After that, specify the new front page and the new posts page.