In this tutorial you are going to learn how to play
Facebook games on iPad
through the installation of an app.
Step # 1 – Running Games in Safari
First, we are going to look at the possibility of playing games in a standard browser window. Touch the Safari icon on the home screen and visit the Facebook site and make sure you are signed in. Into the search box at the top type the game you are interested in (here "Farmville") then touch the app you are interested in in the list that loads.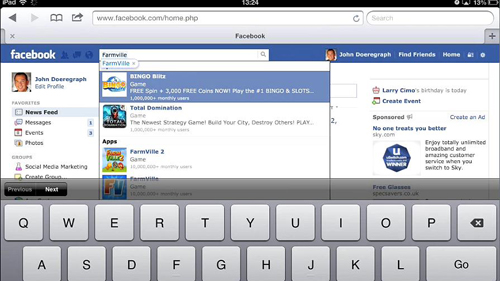 Step # 2 – Running a Limited Version of the Game
You will be redirected to another page where a special version of the app will load – this is essentially a stripped down version of the app designed for mobile use. While this might be fine for you, you might also want to play the full version of the game. To do this you are going to need to download a browser for the iPad that supports flash.
Step # 3 – Installing and Opening the iSwifter App
Use the home button to return to the home screen and find and touch the "App Store" icon. In the App Store touch the search box in the top right and type in "iswifter" and touch "Search". A list of applications will load, you need to install the one called "iSwifter Games Browser" – here we have already done this so we will just click "Open"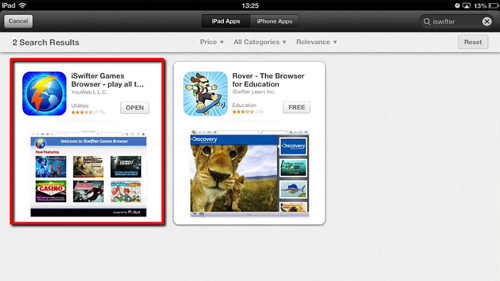 Step # 4 – Using the Browser to Play a Flash Game
The application will load and you need to enter "www.facebook.com" into the address bar. Facebook will load after a moment and you will need to log into your account. As before type "Farmville" (or whatever game you want to play) into the bar at the top and click on the game in the list that loads. This time you won't be redirected to the light version of the game and the full version will load further down this page and that is how to use
Facebook games on iPad.