Introduction
:
In this tutorial, you will learn how to share really large files online using a free website's service.
Step # 1 – Visit WeTransfer
First, open up your web browser, click in the address bar and type in "http://wetransfer.com". If this is your first time visiting the website, you will be prompted to accept their terms of service. Click on "I agree" to continue sending large files online.
Step # 2 –Upload and send the file
Now, in the same location on their webpage, click "Add files". Pick the files that you wish to send and click "Open". You can now type in your friend's email address so they can receive the file. A button will appear called "add more friends", so you can email the files to more than one person. Below that, type in your email address and an optional message to the receiver of the file. Finally, click the "transfer" button below to start the transfer process. When the file has been uploaded, you will see a big check-mark and text letting you know the transfer was completed.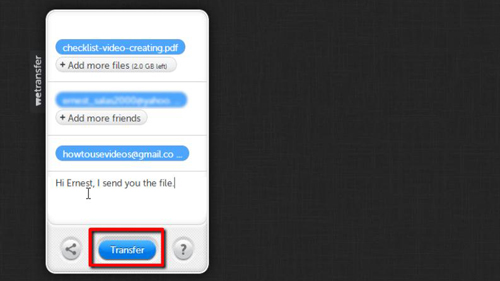 Step # 3 –Check your email
After that, you should check your email to read the confirmation letter. When you open the confirmation letter you will see a download link to the file, along with the date that the file will be deleted from their system. So, now you know how to share really large files online.