In this tutorial you are going to learn how to do a copyright search for material in the US.

Step # 1 – Navigating to the Search Page
First you are going to need to visit the site that has a database of all copyright, visit "www.copyright.gov/records" and on the page that loads click "Search the Catalog". You will be redirect to a page that allows you to search for an item.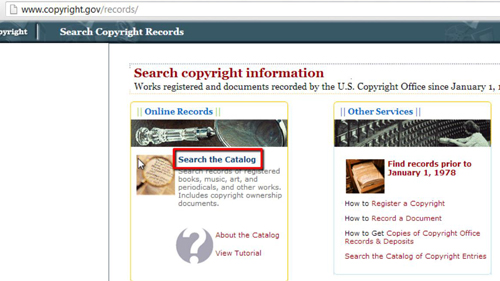 Step # 2 – Entering a Search Term
You'll probably want to adjust the "Search by" option first as it gives you an idea of what terms you can search by. Here we are going to select "Name" and it gives you an idea of the format that works best, here surname followed by name. Bearing this in mind lets enter a search term, here "king stephen".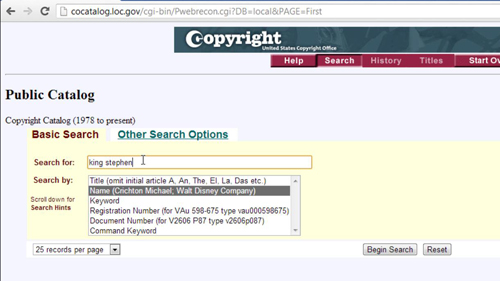 Step # 3 – Find the Copyright Information
A page will load giving you information about all the works related to this name. Unsurprisingly here we get a list of works written by Stephen King, you can adjust how these are sorted by clicking in the "Resort results by" drop down box. Here we are simply going to click on one of the links in the "Full title" column, which will bring us more information about the copyright. As you can see here details about the registration and its date load and that is how to do a copyright search online.